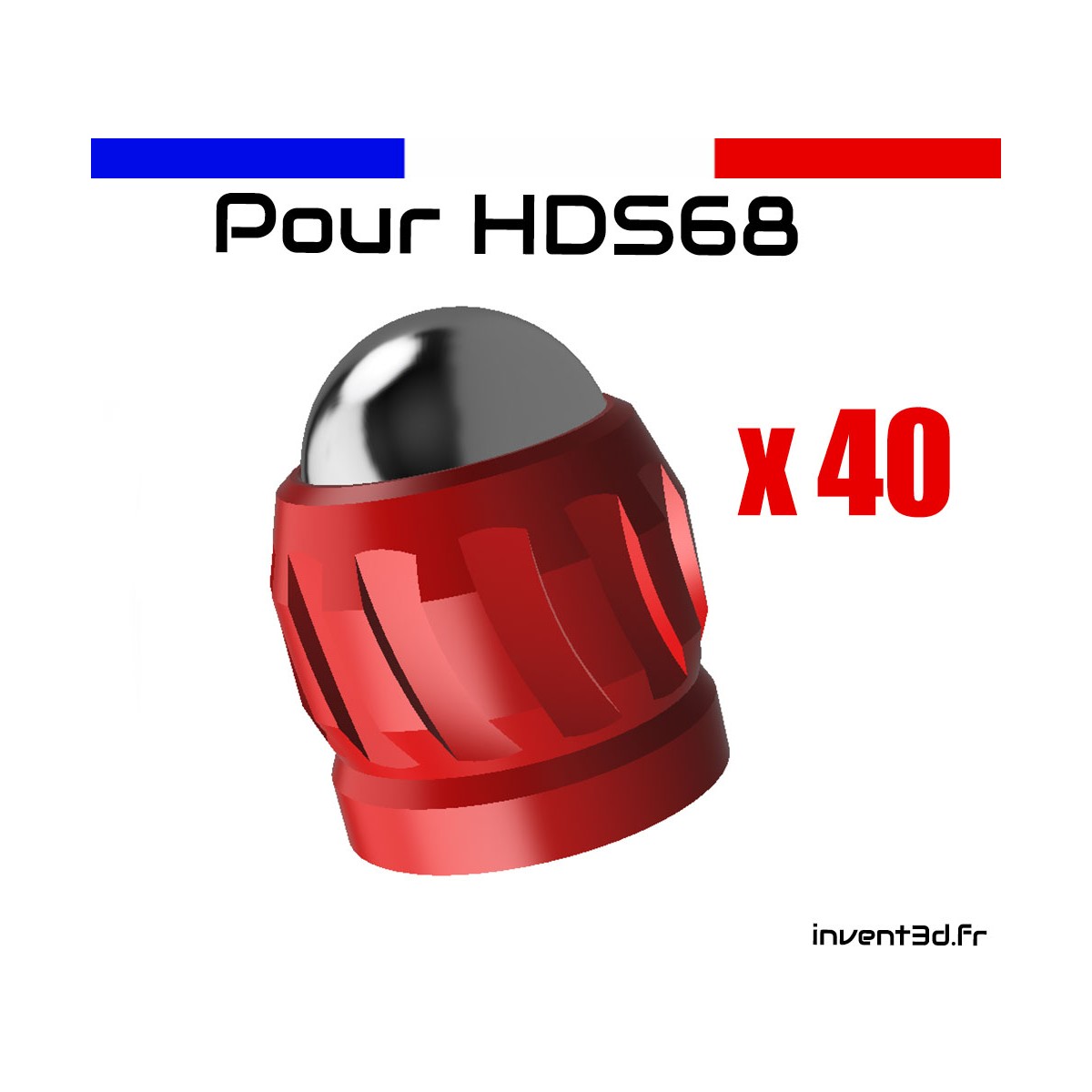  
40 Slugs pour T4E HDS68 Umarex cal.68 bille 12mm poids 8g - Airsoft Rouge
Perfectly adapted for the Umarex HDS 68 rifle of the T4E range. 
Custom made to the 10th of a millimeter.
Set of 40 in red color with 12mm steel balls.
If you lose steel balls, you can order them here: https://www.invent3d.fr/billes-acier/22-25-billes-acier-12mm.html
Unique design made in France.

The supports are equipped with a steel ball of 12mm.
The total weight is 8g (+-0,5), the original balls are 3,6g.
Insert them in the barrel as shown in the picture. It is studied so that they hold in place without forcing in the barrel.
Discreet shipment in a bubble envelope. Priority shipping with tracking.

 
Attention:
- The sale is forbidden to persons under 18 years old.
- The use of these projectiles can be dangerous.
- Wearing and using them on public roads is forbidden.
- Never point the shot at a person or an animal.
- It is mandatory to wear protective glasses (risk of ricochets).
- Keep out of reach of children
By ordering this product on invent3d.fr, you certify that you are over 18 years old.
Data sheet
Calibre

0.68

Bille acier

12mm

Modèle

HDS 68
Customers who bought this product also bought:
Reviews
(2)
4

of

4

people found the following review helpful
Projectile de qualité, la bille d'acier est bien maintenu dans le corps. Le diamètre correspond parfaitement au canon.
En plus, ce projectile propose un design très aérodynamique très agréable à l'oeil.
Par contre, ce type de projectile n'est pas un jouet...
Reward points apply only to purchased products.
1

of

3

people found the following review helpful
Rapport qualité prix parfait et services de qualité
Reward points apply only to purchased products.